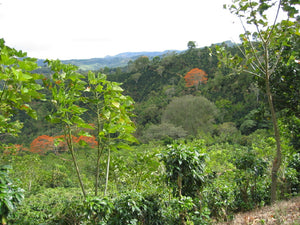 Sumatra Mandheling (LOW ACID COFFEE)
Sumatra Mandheling coffee is grown on the lofty volcanic slopes of Mount Leuser near the port of Padang in the Balak region of west-central Sumatra, at altitudes of 2,500 to 5,000 feet.
 In Sumatra, coffee farmers will typically harvest their coffee cherry and depulp it by hand at their farm or home, allow it to dry for a very short time, then bring it either to a coffee marketplace or directly to a "collector," or collection point, where the beans are purchased at anywhere from 30–50% moisture, with their mucilage still partially intact. The coffee is then combined and hulled (has its parchment removed) while it is still in this high-moisture state. The coffee is then dried to the more commonly globally accepted 11–13% moisture in order to prepare for export.