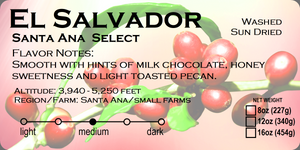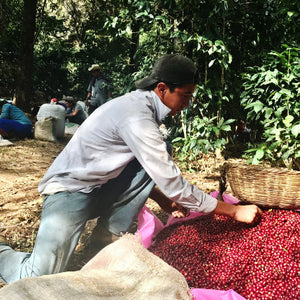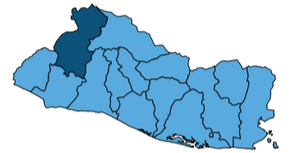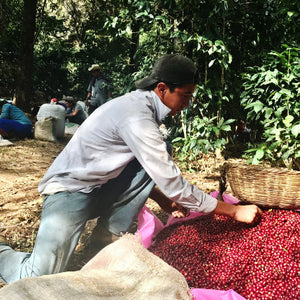 El Salvador Santa Ana Select
El Salvador might be the smallest country in Central America, but the coffee that hails from this densely populated origin is highly renowned for its quality, grown in the shade out of rich volcanic ash soil. 

The majority of El Salvador coffee is washed. This Santa Ana coffee from the slopes of the country's third largest coffee producing region comes from a community of small producers who grow two of El Salvador's most popular varieties: Bourbon and Pacas. Santa Ana's proximity to Guatemala means the coffee sometimes shares similar characteristics and is often on the sweeter side, with nut and chocolate notes.

Strictly High Grown (SHG) coffee signifies that the coffee was grown above 1,200 meters. Higher elevations mean slower bean development, which leads to more nutrient density that results in more flavor. The challenges associated with production at higher elevations encourage higher standards to streamline labor logistics for the best possible crop quality, particularly for the smaller volume yielded from the slow growing process. In addition to being hand sorted with European Preparation (EP) standards for less than eight defects per 300 grams of beans, the labor intensive processes involved in the production of this coffee result in a consistently high quality clean cup.