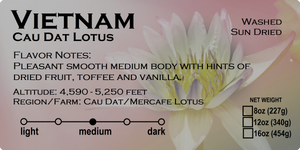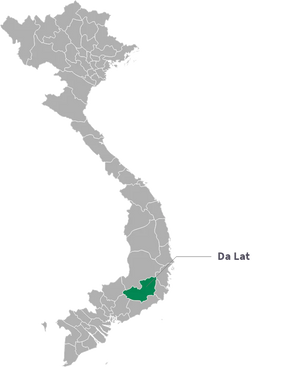 VIETNAM Cau Dat Lotus
About The Coffee:
Vietnam is a special place. As the world's largest producer of robusta, Vietnam isn't generally thought of as an origin with high quality coffee. But that is hardly the case. Cau Dat in the province of Da Lat in the central to southeastern part of the country, grows significant amounts of great coffee, and we are one of the only specialty importers sourcing it who have quality controls in place over the entire process. Vietnam is a country of smallholder farms, averaging 1-3 hectares, and famers do not process their own coffee here but instead sell red cherry to wet mills, who process the coffee for export. Mercon operates several wet mills in Da Lat and has established strong quality programs at each of them. All the Lotus Washed coffee Mercon Specialty imports comes from our LIFT partners.
There are about 100 LIFT farmers in Da Lat, about 30 of whom are women owned and managed. These producers receive technical assistance, free of charge, from agronomists to help improve quality across the entire supply chain.
Developed in 2014 by Mercon Coffee Group, LIFT gives farmers access to a dedicated and intensive sustainability platform offering in-depth training, access to valuable tools and services, and input from some of the finest agronomists in the origins we operate. Most importantly, LIFT transforms the lives of those behind the coffees we so enjoy daily.