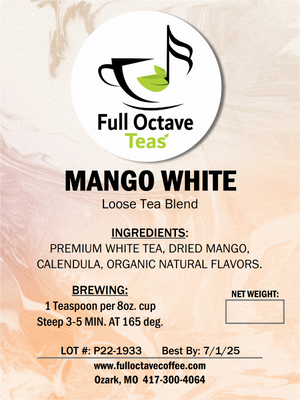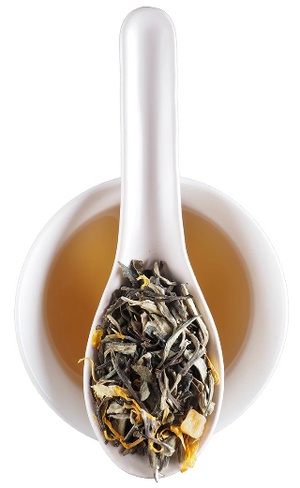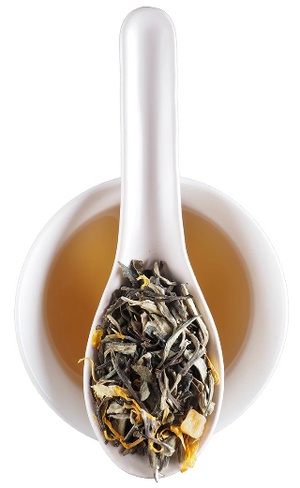 MANGO WHITE TEA
Our Bai Mudan white tea from Fujian Province is enhanced with the refreshing flavor of dried mango. This blend makes a great cold or hot tea. It's light and refreshing!

Allow the tea to come to room temperature and then pour over ice to make a fantastic summer tea. Add a drop of simple syrup to enhance the mango flavor.

If you are beginning your exploration of white teas, these might be your gateway!
Learn More:
WHITE TEA TODAY
Modern-day harvesting and preparation of white tea is quite minimal and includes drying and withering of the leaves in one of several methods. These methods include heated vents, wind drying chambers or natural sunlight almost immediately after picking, preventing oxidization. Because of the minimalistic processing involved, many people refer to white tea as a "raw" tea and it is believed to have a higher amount of beneficial properties than green or black teas. The tea withering processes vary from region to region in Fujian and are very much influenced by the environment, both in terms of climate and local traditions.
White tea undergoes minimal processing, so it's better defined by what it is not.  The only deliberate action taken upon the tea leaves is a slow and methodical drying to reduce moisture and achieve a desired aroma and flavor. 
 

WHITE TEA TIPS AND PREPARATION 
White teas are best prepared with a milder water temperature of 165°-185° F. Water that is too hot can cause the leaves to overcook and become astringent. To capture the best flavor, we recommend steeping white teas for 1-3 minutes only. Although some white teas can be re-steeped, it is not generally recommended, as the second or third steeping may not yield as flavorful or fragrant a cup. It is suggested that you use about 1 Tbsp per 8oz cup for optimum results.
Ingredients:
Premium white tea, dried mango, calendula, organic mango flavor.
Origin: China
Caffeine Level: Low
Brewing Time: 3 - 5 minutes
Water Temperature: 165°F